Have We Hit Rock Bottom?
A Century Of Numbers.
&copy Jean A. Delisle
---
Do not kill the messenger.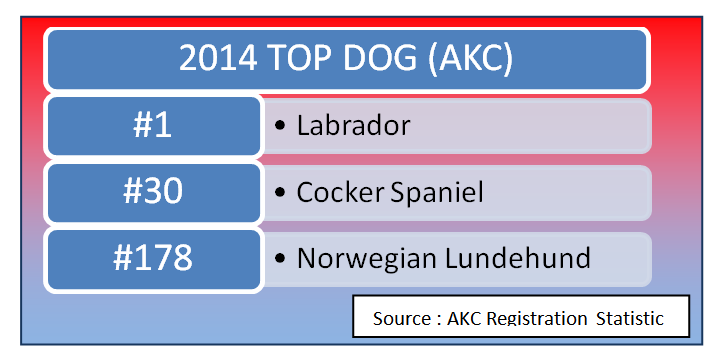 There is no sugar coating the fact: cocker spaniels registrations for 2015 are as low as the 1930s. For 2015 the estimate is for 3,750 cockers! The AKC has the Cocker Spaniel holding to #30 as the USA Top Dogs for 2014. And for the year 2015 there isn't much change in total registrations. This is the good news. For almost three years in a row the registration number will remain the same, halting a stunning 25 years decline.

Cocker Spaniels ranked number one from 1936-1953. Beagles attained top spot after that from 1954-1959. Poodles would become the most popular breed, reigning from 1960 for the next twenty-two years until 1982. Cocker Spaniels made a comeback and were number one again from 1983-1990, making them the dog with the longest total reign in the top spot at 25 years. In 1991, the Labrador retriever took over and remains the leader of the pack today for the 24th consecutive year, continuing the longest reign as the USA's top dog in AKC history. In 2002 cockers were 15th and continued to plunge to 16th in 2006, to 17th in 2007 and 23rd in 2009.

AKC's peak year for registrations was 1992 with approximately 1.5 million dogs. By 2010, the total annual AKC dog registrations were 563,611. This is an astounding 63% decrease.

How many Cocker Spaniels are registered in the USA today? Since 2009 AKC does not publish this statistic. But there are ways to estimate the numbers.
More than numbers
---
Looking at the last one hundred years of cocker spaniels registrations, you can see 2 peaks (Figure 1): 1947-48 and 1990-91.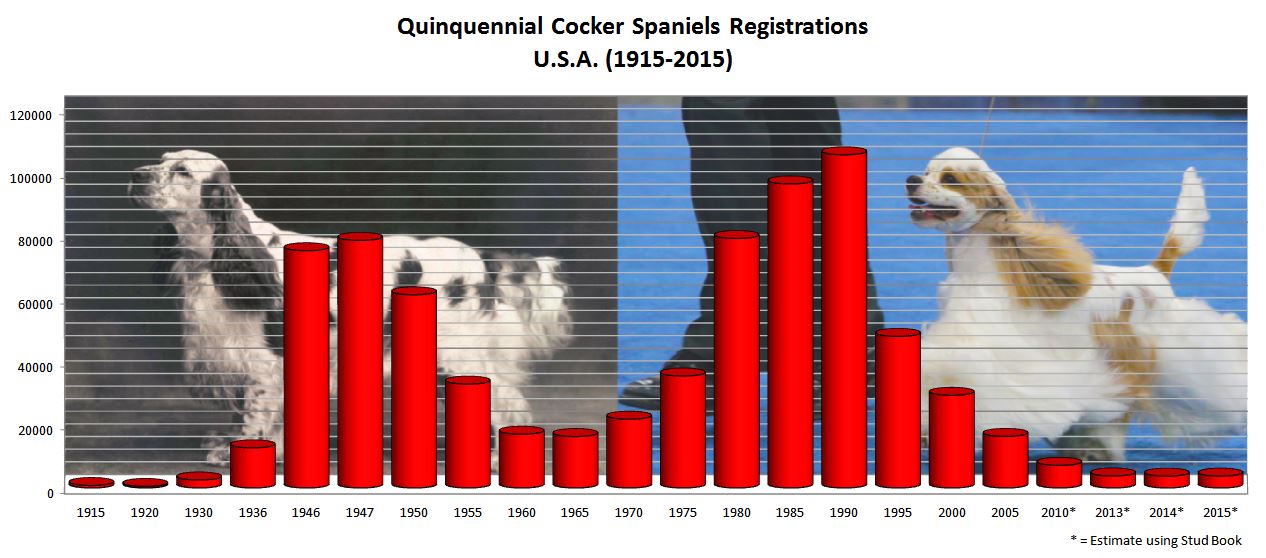 (Figure 1)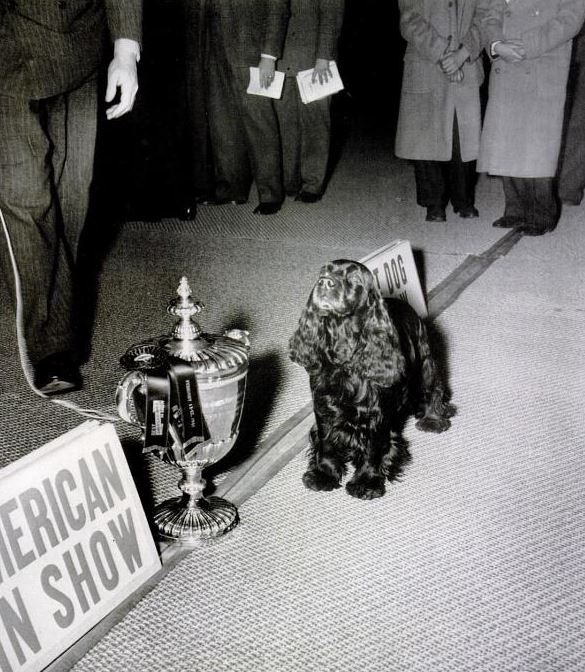 Ch. My Own Brucie, Life Magazine Feb. 1941
From 1920 the American Spaniel Club gave its Specialty at the Hotel Roosevelt in New York early January each year. And the Cocker Spaniel parent Club's annual rendez-vous grew in reputation. In 1923 ASC introduced the Futurity Stake to encourage breeding better Cocker Spaniels. In 1925 ASC had about 65 members and more then 400 by 1945 and over 600 by 1959. The popularity of the Cocker spaniel quintuples between 1920 and 1930; this fame was helped when W.T. Payne's Ch. Midkiff Seductive was Best in Show at Westminster in 1921. This momentum continued with a first peak in cocker spaniels registrations following the popular wins of Ch. My Own Brucie. He won Best in Show at Westminster in 1940. It was a great boost to the breed popularity when the next year he went back and repeated his sensational triumph; everybody wanted a dog just like him! Brucie was the best known dog in America. When he passed away, the New York Evening Sun published his obituary on its first page, crowding out WWII news to make room for it.
Up and Down and Up again
---
The Cocker downward spiral began around 1948. "Breeder or barber" was a hot topic back then. The blacks generally had longer hair coat and were winning. Ruth M. Kraeuchi wrote: "A few heavy-coated individuals appeared, achieved great success in the ring and were tremendously bred to. This type is characterized by a taller, even more compact animal, with an accentuated stop, higher dome, a shorter deeper muzzle, more slope to the topline, a higher tailset and, of course, greater quantities of feathering - growing all over the leg and body and requiring extensive trimming and shaping(...). In 1957 the standard's description of coat was changed from "well-feathered" to "well-feathered, but not so excessively as to hide the Cocker Spaniel's true line" (...) in 1973 the standard was rewritten with particular emphasis on size, coat texture and markings(...) is the Cocker bred to fit the standard or is the standard changed to fit the cocker?"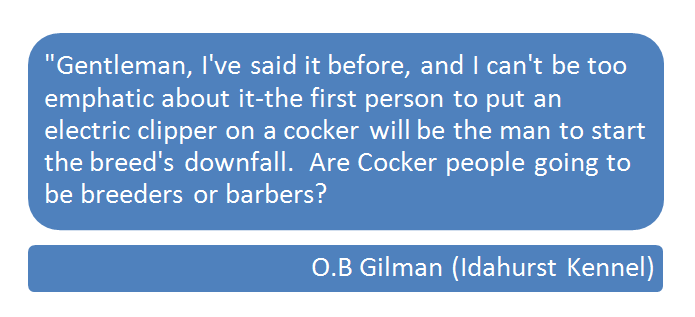 In 1959 Clark C. Thompson ASC Past Chairman Executive Committee wrote:" (...) no breed long remained at the peak for the reason that such over popularity attracts many types of breeders, vastly different from those who build the breed up its position of prominence. The new types are primarily "in" the breed solely for profit and have little if any interest in breeding as a study. Naturally when such appear in growing numbers, the breed starts to decline in overall quality and consequently drops off in popularity until those who were the cause of this falling off quickly look around for another breed that seems to be advancing in public favor."

In 1955 Walt Disney released the animated feature film Lady and the Tramp, and 10 years later dedicated breeders went on to improve the breed so that after 1965, the breed popularity started up again. The second peak was achieved gradually and by 1989-90 the Cocker was at the top of AKC registration with over 118,000 cockers.
A breed in danger?
---
Breeders that helped the breed in the early and mid-sixties have retired and puppy-mills have moved-on to other breeds. The drop in registration is extreme (Figure 2).



(Figure 2)

In Great Britain, the Kennel Club recognizes a vulnerable breed as one which achieves 300 or fewer registrations each year. The Clumber spaniel, the Sussex spaniel, the Field spaniel and 25 other breeds are on that list. AKC has not published any registrations data since 2009, so it is impossible to know the accurate numbers of cockers registered. With the Stud Book, it is possible to estimate registrations; the good news is the decline is drastically slowing down since 2013. The last known number was 9,481 cockers registered in 2008. For 2015 the estimate is for 3,750 cockers.

The number of Cocker Champions (Conformation Shows) remains the same. In 2013 there were 403 Champions and in 2014 there were 373 Champions. So far for 2015 the number is 336 (including Nov. 2015) and will probably reach 360 Champions. 10 years ago in 2005 there were 613 Champions.

Cockers in Obedience (CD, CDX, UD, UDX) remain low at 40 titles for 2014, about the same for 2012 and 2013 which is 41 and 40 respectively. There were 67 obedience titles won in 2005.

Rally Trials have been decreasing from a peak of 195 Rally titles (RN, RA, RE, RAE) in 2007 to only 75 in 2014. The number of cocker participating at agility trials has increased a little; this is difficult to compare as more and more titles are added every now and then. In 2014 there were 84 MACH titles, 33 NA, 34 NAJ and 46 MXP.

Field and hunting titles (JH, SH and MH) totaled 11 for 2014 compared to 19 in 2013. Tracking (TD, TDX) remain constant at 15 titles for 2014.


2015 Statistics
---
An excellent source for accurate information is the AKC Stud Books. While "Modern" Stud Books no longer record registered cockers, they document the first time any registered dog (male or female) is used to breed a registered litter of purebred dogs.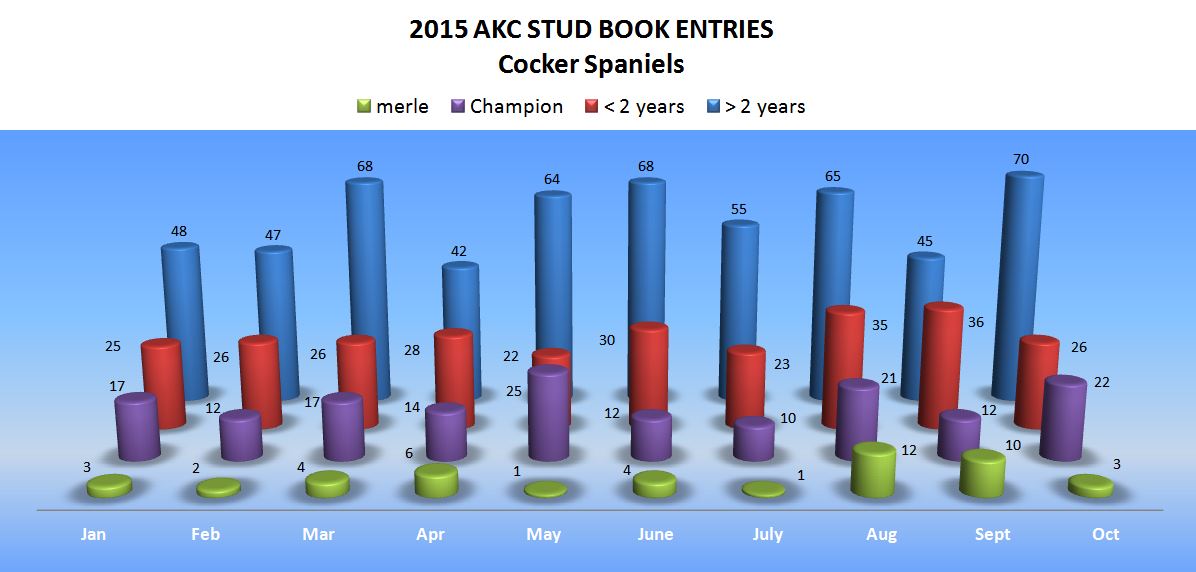 (Figure 3)

It is an indication of the future of the breed. It is a clue as to the number of dogs being born.


Up to and including October 2015 (Figure 3), every month there is on average 85 new dogs in the Stud Book. A lot of them are from recognized breeders, some are coming from distant countries and some are coming from less popular breeders with hardly any Champions for the first 4 or 5 generations. The highest month so far was August 2015 with 100 dogs and the lowest was 70 dogs in April 2015. Of those 85 dogs on average, 33% are under 2 years old. On average 5% are merles (SZ registration) and 19% are Champion.

10 years ago in 2005, the monthly average was 427 new dogs per month of which 45% were under 2 years old.

As the registration number remains the same or continues to go down there will be few breeders left and breed diversity might be lost.

The cocker spaniel is a dog of superb disposition. The character of this small sporting dog hinges on his love of people. He is an ideal family dog adaptable to city living as well as large house with open grounds.
---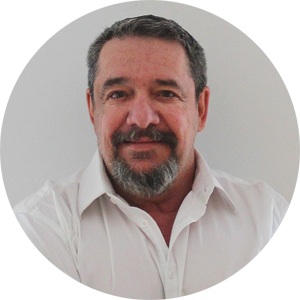 Jean Delisle is a Canadian Kennel Club Sporting & Toy Group judge. Member of the American Spaniel Club Archival Work Group. Maintain and update the Cockers-Worldwide Pedigree website. He bred American Cocker Spaniels under the prefix Kebec's with Pierre Talbot since the early 1980s.

Acknowledgments.
American Kennel Club Statistics; American Spaniel Club Annual Report 1946, 1959; A Century of Spaniels, ASC 1881-1991; The New Cocker Spaniel, Ruth M. Kraeuchi; This is the Cocker Spaniel, Leon F. Whitney; Life Magazine, Feb. 24, 1941; and Bobbie Kolehouse for some missing statistics.











Copyright 2015, Jean A. Delisle. No part of this content may be reproduced without written permission.